loof751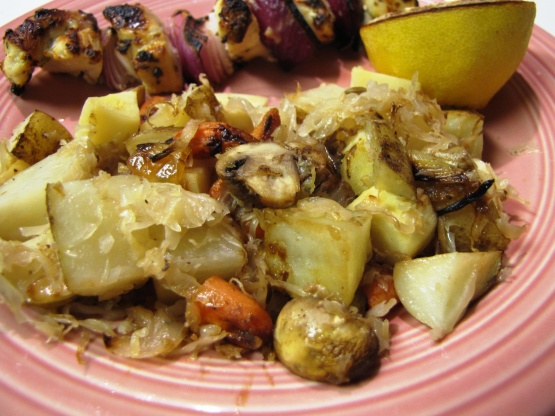 This is one of those very simple, sounds odd, great tasting dishes. Use any root vegetables you have on hand, the more variety the better the dish. I like large chunks of vegetables in this dish, it makes it more caveman like. Sausage like kielbasa can be used to add flavor and appease the meat lovers. My wife enjoys this dish with sour cream, she uses that stuff like some people use ketchup.

Great veggie dish! Really loved the addition of the sauerkraut, unusual but it really made the dish. We're not wild about beets so I left that out, otherwise made as directed. I wasn't sure how the mushrooms would fit in with the rest of the veggies but I thought they added a nice flavor and texture dimension. Served this as a side dish but I think it would be great as a main course with some buttered noodles. Thanks for sharing a great recipe! Made for Spring Pick-A-Chef 2011
Preheat oven to 400.
Cut the beets to the desired size and microwave a few minutes to soften slightly.
Cut all the remaining vegetables to the desired size and place in an oiled 9x13 baking dish.
Add the beets.
Add any sausage.
Toss to coat with oil.
Pour on the sauerkraut, fennel, caraway, salt and pepper and mix slightly so the vegetables are exposed.
Bake in 400 degree oven uncovered for about 40 minutes or until the vegetables are easy to cut with a fork. If done right, the potatoes should have a roasted outer layer and most of the liquid from the sauerkraut has evaporated, it's good eating regardless.