Roasted Roma Tomato Salsa
katii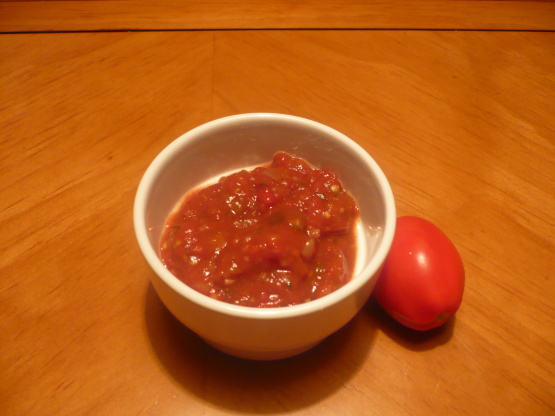 This awesome recipe for hearty spiced salsa may have a lot of ingredients, but really, it's all just "to taste". Just try not to skip out on any of them - they each add unique dimension and depth!
Lay the tomatoes and onions (and peppers, if desired) on a parchment paper-lined baking sheet and broil in the oven until skins are dry, hard, and slightly browned, and onions are well-browned (this can take anywhere from 10 minutes to 1 hour, depending on how ripe your tomatoes are).
While still hot, remove tomatoes from sheet and place (with skins) in a large ramekin or bowl.
Mash the tomatoes slightly.
Add in onion and peppers; stir.
While still very hot, drop the chocolate chip in and stir until melted.
Stir in corn.
Stir in next 11 ingredients, stirring well until very well combined.
Stir in vinegar and water; stir well (again!).
Serve warm or cold, but store in the refrigerator for up to 5 days.
Enjoy!