Chef Dee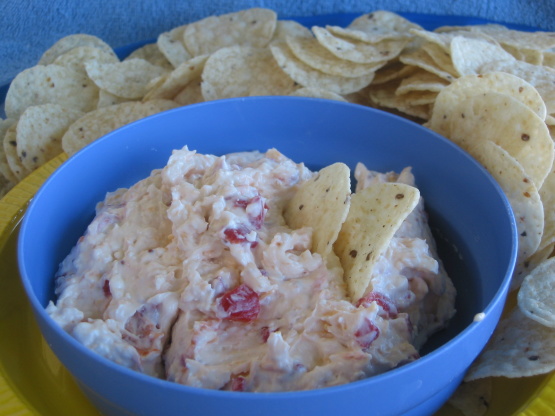 A friend of ours from Austin made this as an appetizer on our latest ski trip and it was gobbled up in minutes! Thought I'd share this easy and delicious dip with the rest of my fellow Zaars!

My brother's girlfriend had a babyshower this past weekend and I made all the dishes for her. I told her about this recipe. I made it for the babyshaoer and got winderful reviews from it. Everyone fell in love with it and have asked me for the recipe. I was surprise because they are use to the tradtional rotel dip. This is a hit and I will be making it from now on for family gatherings. Kudos to Leslie, this is a winner...please give it a try. Tondra from TN
Mix all ingredients together and spread in a shallow, oven-proof dish.
Bake at 350 degrees for about 20 minutes, or till hot and bubbly and lightly browned.
Serve warm with your favorite crackers or chips.