Roasted Red Pepper / Asparagus Stuffed Chicken Breasts
Bergy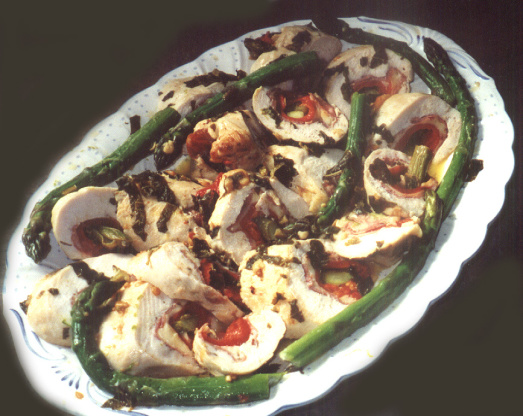 A special chicken dish for a special occasion. Mouth watering, sumptuous, and beautiful presentation!!

FIVE GIANT STARS here! I took a leap of faith, and made this for Easter dinner. I NEVER make a new recipe for dinner guests. (my guests included DD#1's future MIL!) I got raves all around the table! I omitted the prosciutto, and baked them without the frying. What a sensational dish! Thank you SO MUCH for sharing, and Bergy thank you for your beautiful photo! Oh, for my vegetarian daughters, I followed the same recipe using portabello mushrooms instead of chicken. Five stars on that, too!
Preheat oven to 350°F degrees.
Rinse chicken breasts and dry with paper towel.
Meanwhile, steam asparagus to tender crisp, about 3 minutes; set aside.
One at a time place chicken breast halves between pieces of plastic wrap, inside up.
Pound carefully with a meat mallet to about 1/4 inch thickness.
Remove top pieces of plastic wrap.
Sprinkle salt and pepper over chicken to taste.
Place 2 prosciutto salami slices, overlapping if necessary to completely cover chicken.
Place Swiss cheese slices over prosciutto.
Pat red pepper dry with paper towel and place half a roasted red pepper over cheese.
Place one asparagus spear near one edge of pepper, roll chicken with layers around the asparagus, using the bottom piece of plastic wrap to help roll it.
Roll as tightly as possible, use toothpicks to close if necessary.
Repeat for all 4 breasts.
Heat 1 tablespoon butter with 1 tablespoon olive oil in large non stick frypan.
Place chicken roll ups, seam side down in hot frypan, reduce heat and brown on all sides, until golden brown, about 10 to 15 minutes.
Remove chicken roll ups and place in 9x13-inch oven proof dish, seam side down; set aside.
Add wine to hot frypan, deglaze pan, add remaining olive oil and butter to frypan, add basil leaves and salt and pepper to taste to frypan.
On medium heat, simmer until reduced by half, about 10 minutes.
Spoon/pour wine/basil reduction onto chicken, be sure to get some basil leaves on each piece.
Place dish with chicken on middle rack of 350°F degree oven, roast for 25 to 30 minutes until roll ups are heated through and chicken is no longer pink.
Remove roll ups to platter, let rest for 10 minutes.
With a sharp knife cut each one into 4 pieces. (Cut thinner slices to use for appetizer.)
Arrange on platter cut side up, overlapping in 4 rows.
Spoon/pour juice from oven dish over; garnish with extra asparagus spears and strips of roasted red pepper.
Serve warm or cold.