Roasted Red Pepper and Lentil Soup
Boomette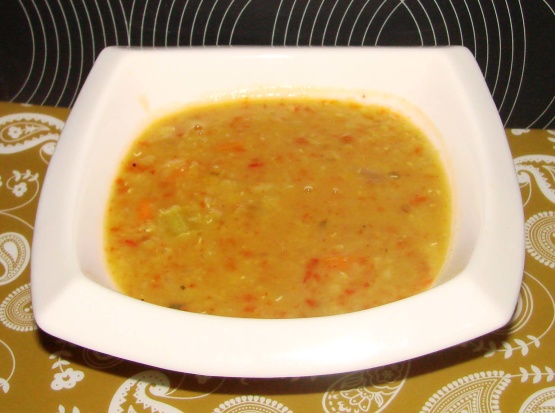 Another Caprial's Cafe delicious sounding recipes.
I used a red onion, red lentils. Next time I'll mince the celery cause it took longer to have it tender and the soup was sticking to the pot and the lentils were almost overcooked. I added 2 cups of chicken stock. I loved the addition of the roasted pepper and jalapeno. It added so much flavor. I didn't use curry and cumin since it's not my favorite spices and the taste was already great. Thanks Nancy :) Made for Holiday tag game
1

tablespoon olive oil

1

large onion, diced

3

shallots, diced

4

garlic cloves, chopped

1

carrot, roughly chopped

2

stalks celery, roughly chopped

2

cups lentils

8

cups chicken stock

1

ham hock (optional)

2

red bell peppers, roasted and pureed

1

jalapeno pepper, roasted and pureed

1

pinch curry powder

1

teaspoon ground cumin

1

tablespoon cayenne pepper (or to taste, can use chile sauce, I would use much less)
salt & freshly ground black pepper, to taste
In a large stockpot over high temperature, heat the olive oil until very hot. Add the onion, shallots, and garlic and saute until they begin to give off their aroma, 2-3 minutes. Add the carrots, celery and lentils and mix to coat the lentils with olive oil. Add the stock and optional ham hock and simmer until the lentils are tender, about 20 minutes.
Add the pureed red and jalapeno peppers to the soup. Add the curry, cumin, and cayenne. Season with salt and pepper. If you have added the ham hock, remove it and discard or pull the meat from the bone, chop and addit it to the soup. Bring the soup just to a boil and serve immediately.