Roasted Red Pepper and Chive Dressing
Chippie1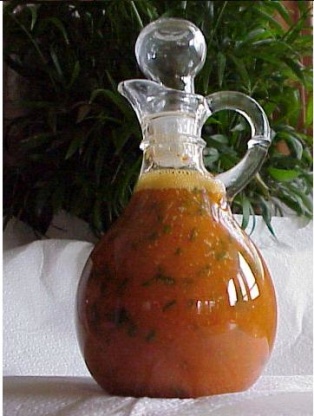 This was a very pretty dressing to serve with our chicken & spinach salad, but unfortunately was on the bland side. Maybe will try again and add some oregano & parsley or some other spices. Even though we didn't rave over this one, I thought I would at least take some photos of the dressing so everyone else can admire its look.
Hold red pepper over a flame, turning it until evenly charred.
Or cut it in half, rub with oil, and place under the broiler until blackened.
Wrap in a plastic bag and set aside to cool.
Scrape off the burned skin and remove seeds and stem.
In bowl of blender or food processor fitted with a steel blade, place red pepper, vinegar, and garlic.
Process until pepper is pureed.
With machine running, slowly drizzle in olive oil until fully combined.
Stir in chives and season with salt and pepper to taste.