Roasted Red Pepper Alfredo
PaulaG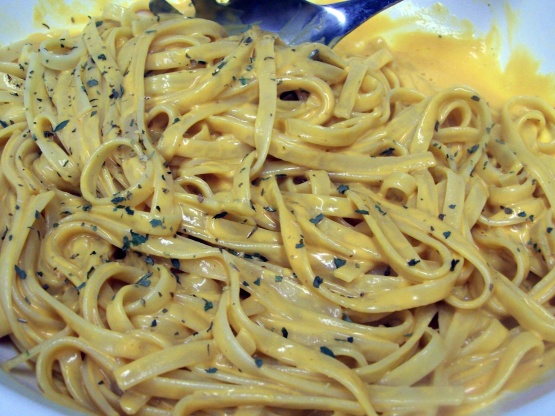 This is a recipe that was emailed to me by Vita-Mix. I made some changes to suit our taste and the results were fantastic. This is prepared in the Vita-Mix in about 5 minutes. Serve over fresh cooked fettuccine with a crisp side salad.

Delicious! I forgot to add the tofu so I assume the flavor was supposed to be milder, but frankly we loved it that way. I did add a little siracha for heat. I'll try to remember the tofu next time! This was easy to make and while the flavors are mild there's enough there to make it interesting. And I really like getting the bell pepper haters to eat some nutrient-packed peppers and love them!
Cook the fettuccine in salted water as per package directions.
Place sauce ingredients in the Vita-Mix container in order specified except for Italian seasoning.
Add 1/2 teaspoon Italian seasoning blend and secure 2-part lid.
Select VARIABLE speed #1 and gradually increase spped to #10; then to HIGH.
Allow the machine to run for 3 to 4 minutes or until heavy steam pours through the lid opening.
Adjust salt and pepper to suit personal taste.
Serve over freshly cooked fettucine, sprinkle with additional parmesan cheese if desired.
Sprinkle with remaining Italian seasoning blend.