Roasted Red Onions With Butter, Honey, and Balsamic
Prep 10 mins
Cook 45 mins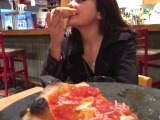 Courtesy of Food Network's Tyler Florence. This is one of my favorite holiday dishes. It goes with everything, it's enjoyed by everyone, and it's super easy!
Directions
Preheat the oven to 350 degrees F.
Combine the butter, vinegar, honey, thyme, salt, and pepper in a small saucepan over medium heat.
Bring to a simmer and cook for 1 minute to reduce slightly.
Place the onions, cut sides up, in a single layer on a baking pan.
Drizzle the butter-vinegar mixture over and roast until soft and slightly caramelized, about 45 minutes.
Most Helpful
In a word: fantastic! I tagged in Veg*n Swap #5 along with recipe#336341. I cooked both at 400° for 45 minutes and the onions came out delicious. I am not a big fan of balsamic vinegar, so I cut it to 2 T and used dried thyme (little under 1 1/2 T). I also cut onions in 1/4's. The sauce ingredients are a winning combo. Even one of my kids liked the sauce on the brussels sprouts! I did too. The onions would be a great side to a roast or steak. But I could eat them alone. I put this into my book#234006.

This was really good. I wasn't sure about eating onions alone, but the preparation was perfect for doing so. Thanks for sharing!

Delish! I made a lower-fat, vegan version by using 3 Tbsp of vegan margarine instead of butter and agave nectar instead of honey. I wasn't sure what a 1/2 bunch of thyme was (my fresh thyme came in individual tiny branches) so I had to guesstimate there. I would have loved an actual amount (tbsp, cups etc). I served this over brown rice with steamed spinach and Italian spiced baked tempeh. Yum. I'm looking forward to leftovers for lunch. Made for Jan 09 veggie swap.