Mandy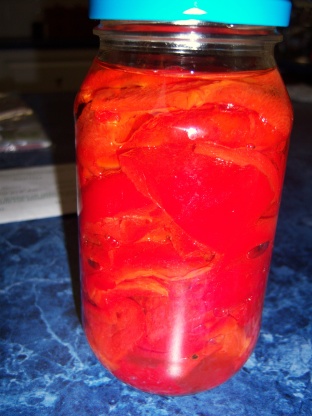 I found this in the New Idea magazine and it works very well.

A perfect and very easy way of roasting bell peppers. I love the flavour of roasted veggies, but always had trouble with storing it. Thanks to your recipe, this is now no longer a propblem! :)
THANK YOU SO MUCH for sharing this keeper with us, Tis!
Made and reviewed for Aussie/NZ Recipe Swap #45 October 2010.
Preheat the oven to 200C and place the capsicums on a baking tray and cook for 15 minutes, or until the skin has blistered and turned slightly black.
Place the capsicums in a plastic bag until cool.
Peel the skin off the capsicums, trim any pith and remove all the seeds.
Place the capsicum flesh into hot sterilised jars.
Pour in the olive oil to cover.
Seal immediately and store in the fridge for up to 3 weeks.