sloe cooker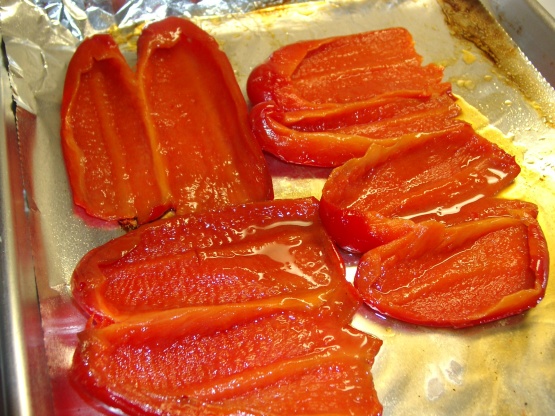 Simple directions for roasting red peppers

This recipe does NOT work for non-bell peppers (like banana peppers) since, by the time the skin is black the meat is also black. For this type peppers just roast until the skin blisters. I recommend roasting all kinds on foil (no pans to scrub) then folding the foil over the peppers to steam (juices not lost to paper towels, plastic bags not melted, less to throw away!) Leaving seeds in hot-type peppers while roasting will add to the spiciness of the result.
Heat oven to 450F degrees.
Wash peppers and cut in half.
Remove seeds and stems.
Place upside down (skin side up) on a cookie sheet coated with olive oil spray.
Bake for 10-15 minutes or so, until skin of pepper is seriously black.
Make sure there are no sparks or actively burning ashes on the peppers and place peppers in a brown bag for about 10-15 minutes. This steams the peppers so the skins easily peel off. Rinsing peppers takes away all the roasted flavor, so don't let me catch you doing that.
Let cool so you can touch them.
Skin will peel off easily.
Cut halves into strips, or however you need them to be cut.
Now you know how to roast a red pepper!
Good for: Chicken, cheese sauces, tomato sauces, topped on foccacia bread, or a million other things!
You can also roast a pepper by placing it directly on the burner of a gas stove (NOT ELECTRIC!) turning with tongs every few minutes till skin is black. Continue with paper bag step.