Roasted Red Bell Pepper Pasta
mikey ev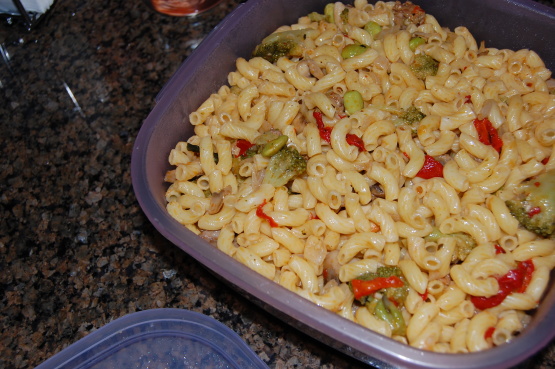 In Los Angeles, my cousin made variations of this every single night and it is the best combination of flavors for a pasta that I have ever had! Everyone I have made it for has begged me to make it again and again... but always use SHREDDED parmesan! (Great with French Bread)

Yummy and satisfying! I wanted to make this a main dish, so I added some shrimp and crab in with the peppers. What a fantastic blending of flavors! Thank you for providing the perfect recipe for my Valentine's Day dinner.
Heat olive oil on medium to high heat in large skillet or wok.
Add mushrooms, onions and all seasonings and saute for 15 to 20 minutes (Stir-fry style).
Meanwhile, slice roasted red bell peppers as desired.
Add the peppers to onions and mushrooms and continue to saute for another 5 minutes.
Cook pasta and drain.
Toss contents of skillet in with pasta and the parmesan cheese (I always serve more parmesan in a separate bowl as well).