GT in SA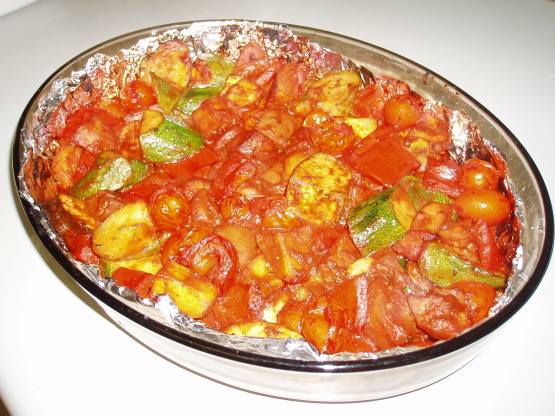 This is very yummy. It is also easy. The leftovers are great with pasta and it uses all those beautiful vegetables that are so plentiful in the summer.
Line a sheet pan with aluminum foil.
Spray with cooking spray.
Cut the eggplant unpeeled into 1" cubes.
Cut the zucchini into 1" cubes.
Cut the red pepper into 1" cubes.
Cut the onion into large wedges maybe 8-10 pieces.
Leave the tomatoes whole and also the garlic if using.
Put all vegetables on prepared pan.
Sprinkle with salt and pepper to taste and dried herbs.
Drizzle with Olive oil. Use your hands to toss gently and coat everything with seasoning and oil.
Bake at 350F for about 1 hour. Turn every 15 minutes.
While it is warm toss with fresh basil and crumbled goat cheese.