Debbwl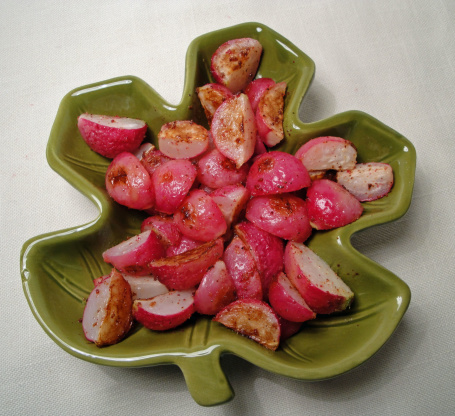 I was struggling for side dishes while in the "strict" phase of low carbing it....figured most veggies seem to mellow with roasting why not radishes.....only problem was DS kept eating them so I had to hide them in a container labeled "squash" (he would NEVER open that! LOL). I also put them out as part of an appitizer buffett on a platter with cauliflower that I cooked the same way....they disappeared!

Made for Thanksgiving 2009. I picked this dish as a low carb side option to give my diabetic father-in-law more options to choose from on the Thanksgiving table. Everyone who tried these enjoyed them and couldn't believe 1) that they were radishes and 2) how easy to prepare they were. My husband and in-laws said that the flavor reminded them of cabbage. My father-in-law requested the recipe to add to his rotation of side dishes at home. I did not use the salt (several guests have high blood pressure) but they still tasted good. The tip about lining the pan with foil for easy clean-up worked great! Thank you for posting this recipe/method!!!!!
Wash, trim and quarter radishes.
toss radishes in small bowl with olive oil.
spread on cookie sheet (I line it with foil for easier clean up).
sprinkle with salt.
roast at 375 for 20 to 25 minute.