Roasted Pumpkin Seeds - Halloween Thanksgiving
awalde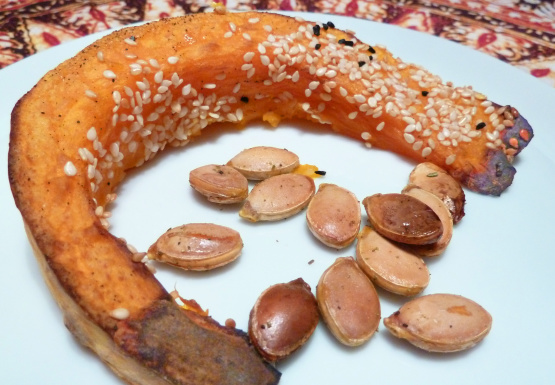 I love roasting pumpkin seeds, and it's a fun project to do with the kids, grandkids...

Top Review by awalde
Squash is so yummy in this way.
I enjoyed it twice: as Roasted Pumpkin Seeds - Halloween Thanksgiving ( #261686) with olive oil instead of butter and as Oven Roasted Hokkaido Squash (#350530) with seame seeds-salt mix instead of gomashio. I prepared both simultaneously for saving time and energy.
Both delicious! Thanks!
Preheat the oven to 400.
Separate the seeds from the pumpkin flesh. using a colander under running water to make the job a little easier. Remove all the flesh and the strings, so they don�t burn in the oven.
Dry the seeds with layers of paper towels or a dishtowel.
Spread the butter onto a cookie sheet and place it in the oven. When the butter melts, add the pumpkins seeds.
Season with salt.
Mix everything together on the cookie sheet, then spread the seeds out, and place back into the oven.
Roast for 15-30 minutes, until the pumpkin seeds are golden brown.
Be sure to shake the pan every once in a while so the seeds don�t burn.
Remove the pan from the oven, and let cool.
Note:.
Get creative with their pumpkin seeds, and season with various herbs and spices.
Try mixing in some garlic powder, celery powder, Cajun seasoning, Old Bay seasoning, hot sauce, red pepper flakes (be careful) or even some Worchestershire sauce.