Roasted Prosciutto-Wrapped Asparagus
Prep 30 mins
Cook 20 mins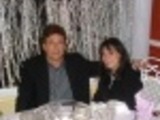 My husband clipped this recipe from a magazine about 7 years ago, which is something he had never done before. When he brought it home, I agreed to make it for him, and it was great. Since then, I have served it as a first course at many holiday meals. You can also serve it as an hors d'oeuvres.
Directions
Preheat oven to 400 degrees.
Trim asparagus evenly. Cut each slice of prosciutto in half lengthwise.
Place asparagus and boiling water in a large roasting pan and cover tightly with foil.
Stream asparagus for about 10 to 15 minutes, until tender. Remove asparagus and dry on paper towels. Drain water from roasting pan and dry.
On a sheet of waxed paper, lay 1 strip of prosciutto. Sprinkle with about 1 t. Parmesan cheese. Place one asparagus spear at 1 end and roll up, slightly overlapping proscuitto as your roll, and covering most of the spear. Repeat with remaining asparagus, prosciutto, and Parmesan cheese.
Place wrapped asparagus in roasting pan and roast for about 10 minutes, until prosciutto just begins to brown.
Reviews
Most Helpful
I loved eating this and enjoyed making these up. I steamed the asparagus for 15 minutes in my turbo cooker. While they were cooling on papertowels I had 3 oz of prosciutto ham, cut it in 4 lengthwise strips to wrap the asparagus. The parmesan cheese was a little messy, but it really was fun to make. Cooked in the oven for 12 minutes. My Dad was visiting me and he must have enjoyed too, I think he had 3 helpings! This will be made again. Thanks, JackieOhNo! for posting this recipe.

Three of my favorite ingredients- asparagus, prosciutto, and parm, are in this recipe, so what's not to like? The ham crisps up nicely, giving some crunch, while the cheese helps it adhere to the asparagus. I wouldn't serve this with a very salty main dish, but otherwise, outstanding! I cheated a bit and precooked the asparagus in the microwave instead of boiling; but otherwise followed the recipe as written. I'll definitely make this again!

This is the 3rd time I have made these little lovlies! I bundle 6 asparagus spears and then wrap each bundle with the proscuitto. Perfect serving sized bundles :) I only steam them for a couple of minutes before putting them in to the oven as we prefer them on the slightly crisp side. When I served these for one of the many Christmas dinners I made both ladies asked for the recipe. My favorite way of doing asparagus now!