Roasted Potatoes With Sage and Lemon
Outta Here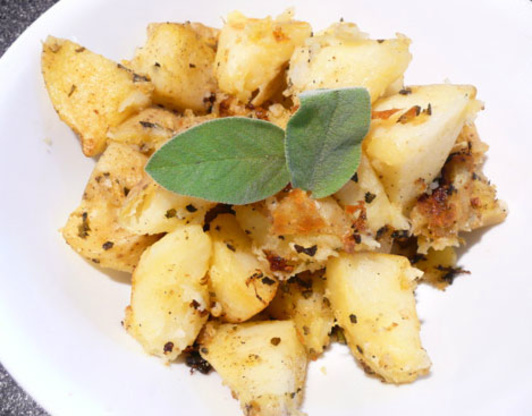 From Australian Better Homes and Garden Diabetic Living issue 10 2007. NUTRITION INFO per serving - 505kj, total fat 3.8g (sat. fat 0.5g), cholesterol 0mg, sodium 4mg, carbs 17g, fibre 2.7g, protein 3.1g, carb. exchanges 1, GI est. High. It is suggested for a quick lunch - toss the still warm potatoes from the oven with mixed salad green, grilled squash, corn and capsicum (bell peppers) and pour over 100% fat free balsamic dressing and serve.

We got my Dad's old BBQ when he bought a new one. Made this recipe as stated, except to start them in the oven, then finished on the BBQ. Garlic, sage & lemon are such a delicious combination, & the BBQ gave these crispy potatoes a delightful smoky flavour. Will make these again, thanks for sharing :-)
Preheat oven to 200 degree celsius.
Place potatoes in a large saucepan (with a lid) and cover with plenty of cold water.
Cover and bring to the boil, reduce heat to medium and cook, partially covered for 10 minutes, or until tender but still firm.
Drain well and while still warm, cut them into quarters.
While potatoes are cooking, in a small bowl combine the finely chopped sage, zest, oil, water, garlic and pepper.
Spray a 3 litre (12 cup) capacity baking dish with cooking spray.
Place the potatoes in the dish, pout over the sage mixture and gently toss until potatoes are evenly coated.
Bake, turning once halfway during cooking, about 35 to 45 minutes or until golden and crisp.
Garnish with the extra sages leaves if using.