Roasted Potatoes, Parsnips and Carrots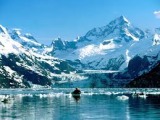 I love roasted vegetables. This is an easy and simply delicious recipe by Jamie Oliver. Your veggies will be crisp on the outside and tender on the inside. Yum!
Directions
Preheat oven to 400 degrees F.
Peel the veggies and halve any larger ones lengthways. I like to quarter my potatoes (sometimes more if they are large).
Break the garlic bulb into cloves, smash them slightly and take peels off. (Jamie leaves his unpeeled, but I prefer the garlic peeled.).
Pick the rosemary leaves off the stalks.
Put the potatoes and carrots into a large pan of salted boiling water on high heat and bring back to a boil. Boil for about 5 minutes, then add the parsnips and cook for another 4 minutes.
Drain the veggies in a colander and allow to steam dry.
Take the carrots and parsnips out and set aside.
"Fluff" the potatoes in the colander by shaking it around a little. It's important to do this if you want the yummy crispy bits and edges.
Put a large roasting pan over medium heat and add the olive oil. Add the garlic and rosemary leaves. Then put all the veggies into the pan with a good pinch of salt and pepper. Stir them around to get them well coated.
Spread the veggies evenly out into one layer. This is important, so they will roast, not steam.
Put them into the preheated oven and cook for about 45 minutes to an hour. This will depend on your oven. I like to stir them up at least once while cooking. Watch so they don't burn.
Reviews
Most Helpful
Delicious! This is easy and tasty, and the combo of boiling/steaming to dry then roasting made for perfectly textured veggies. I halved the recipe for two of us and ended up with some delicious leftovers I am looking forward to enjoying later. Thanks for sharing! Culinary Quest '14

You had me at rosemary... I've done similar recipes but never before w parsnips! I also peeled the garlic... Made for PAC Fall 2012
I love roasted veggies and this recipe was no exception. I also love rosemary and thought it was the perfect pairing with this combination of vegetables. The garlic I used was the kind that you buy in a jar already chopped. Made for ZWT8 Family Picks.