Roasted Potatoes in Golden Garlic Sauce (Treasure Trove #4)
loof751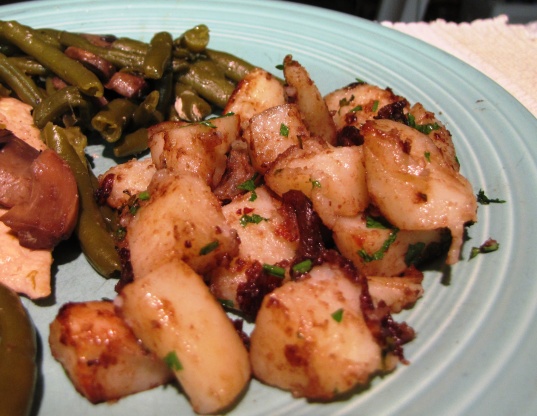 Yet another from my treasure trove of old recipes newly found. I really cannot even guess where this dish came from, but I know why it was saved among the TrTr. DH views potatoes as a nearly religious requirement of every meal & I view garlic as 1 of God's greatest food gifts to mankind. I hope you will see things our way, try it & enjoy!

My family raved about this dish all evening long. I used Yukon gold potatoes, and they were still a little too crunchy after 45 minutes, so next time I'll cut them smaller or use a different variety of potato. The garlic/balsamic sauce tossed with the potatoes really made those potatoes so flavorful though. And being so simple to prepare will ensure that this shall be a staple potato recipe in my house. Thanks for sharing your recipe, twissis. Made for your awesome week 14 win in the 2013 Football Pool.
Preheat oven to 425°F.
Put 3 tbsp olive oil in the bottom of a 9x13 in baking dish & heat in oven for 5 minutes.
Add potatoes & toss to coat w/oil. Roast potatoes (turning occ) for 30-35 min or till tender.
While potatoes are baking, prepare garlic sauce: In a sml skillet, heat remaining 3 tbsp olive oil & add sliced garlic cloves. Cover & cook over very low heat for 7-10 min or till garlic is tender.
Sprinkle w/sugar & stir till garlic is caramelized. Add balsamic vinegar, white wine & basil & simmer for 2 minutes.
Spoon sauce over roasted potatoes, sprinkle w/ground black pepper & parsley & serve immediately.