Roasted Potatoes and Green Beans
Peggy H.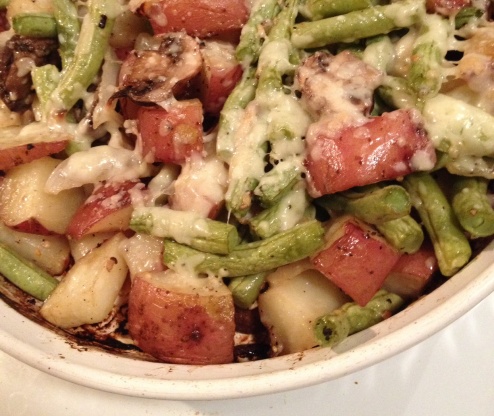 This recipe is an adaption of a recipe found in Williams-Sonoma Essentials of Healthful Cooking. The roasting blends the flavors and produces a delightful side dish.
This is going into my Best of Cookbook! I used red potatoes but otherwise followed the recipe exactly. I loved the crispy potatoes and green beans and the roasted garlic cloves it a nice addition. Will be making these often! Made for Down on the Farm Tag.
Preheat oven to 400 degrees.
Spray a 13 x 9 inch casserole with non-stick cooking spray and set aside.
Brush mushrooms clean and trim the ends of the stems.
Cut the mushrooms in half through the stem.
Cut potatoes into 1-inch pieces.
Cut the onion into wedges approximately 1/2 inch thick.
Seperate the garlic into cloves and peel.
Trim ends from green beans, wash and break into 1-inch lengths.
Set green beans aside.
In prepared casserole, combine the mushrooms, potatoes, garlic and onion.
Drizzle with olive oil, tossing to coat evenly.
Roast vegetables until they begin to brown on the edges, about 30 minutes.
Add the broken green beans to casserole dish and carefully turn and rearrange vegetables in an even layer.
Sprinkle with 1/4 teaspoon salt and a few grinds of pepper.
Return to oven and continue to roast until the vegetables are browned and tender when pierced with a knife, about 15 minutes longer.
Sprinkle the grated Parmigiano-Reggiano and thyme over the vegetables.
Return to oven and cook for 5 minutes longer to melt the cheese.