Roasted-Potato Fennel Soup
Jeff T.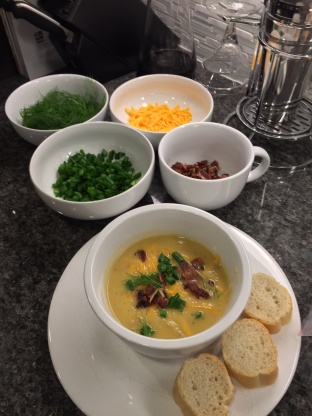 From Ina Garten (Barefoot Contessa), great, hearty, vegetarian soup. My husband, who won't eat meatless meals, raves about this soup.

It was good! Mine was very thick, almost like extremely watered down mashed potatoes. I am not sure of that is normal or not. I also would recommend cutting recipe in half, unless you want to eat soup for days.
Preheat oven to 400°F.
In a large bowl, toss the potatoes with 1/4 cup olive oil, garlic, salt, and pepper. Spread on a baking sheet and roast for 30 minutes, until cooked through.
Saute the chopped onions and chopped fennel with 2 tablespoons olive oil in a large stockpot on medium heat until translucent, 10 to 15 minutes.
Add the roasted potatoes (including scrapings from the pan) and the stock.
Cover and bring to a boil.
Lower the heat and simmer uncovered for 1 hour, until all the vegetables are very soft.
Add the heavy cream and allow the soup to cook slightly.
Using a stick blender, puree the soup in the pot (this can also be done in a regular blender, food processor, or food mill).
Taste for salt and pepper.
Reheat and serve hot.