Roasted Pork Tenderloin with Garlic Mushrooms and Tomatoes
Tesla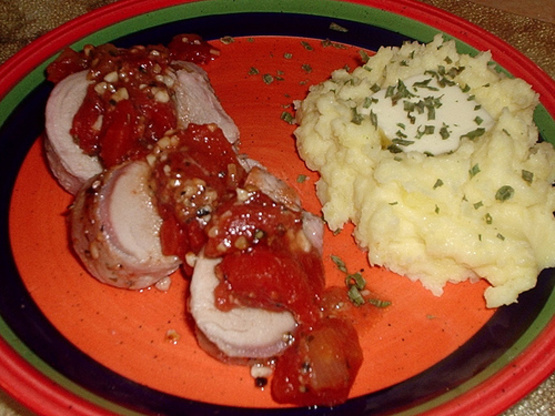 This is best with the summer tomatoes.

Very delicious Miss Annie!! Just the two of us and we managed to put away all three servings!! I used lushious new vine ripened tomatoes, mmmm nummy! What a great combination of flavours, garlic, mushrooms and tomatoes! and of course the tenderloin. Nice method of cooking it all, rather than smother the tenderloin. I found I had to cook it just a bit longer though, about 30/35 minutes was perfect, still lovely and juicy. Thanks for sharing a great one we'll do again!!
Preheat oven to 425 degrees F.
Rub pork on all sides with salt and pepper.
Place pork on one side of a large roasting pan.
In a large bowl combine mushrooms, tomatoes, oil, garlic, and salt and pepper to taste; mix gently.
Spoon vegetables into pan with pork, spreading in an even layer.
Roast until meat thermometer inserted in the middle of the pork registers 160 degrees F.
(about 25 minutes).
Cut pork into thin slices; top with Garlic Mushrooms and Tomatoes.