Roasted Pork Loin With Rosemary , Lavender and Garlic
Rita1652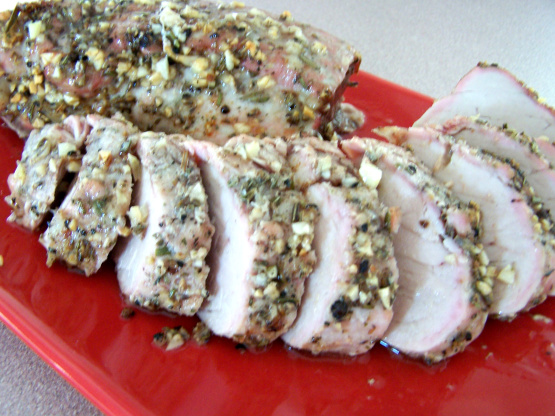 Beautifully scented lean pork loin is low fat tasty from the rosemary, lavender and garlic.

We'd never eaten flowers before, but this was easy and very nice. I used 1 tsp kosher salt and 1/8 tsp pepper (might use a little more pepper next time). Thanks for sharing.
Preheat the oven to 350°F 2. Rub the pork loin with rosemary, lavender, garlic, salt and pepper and place it in a roasting pan. Pour the wine into the bottom of the pan.
Roast the pork for about 1 1/2 hours, basting occassionally with the wine and juices from the bottom of the pan. The pork is cooked when a meat thermometer measures 160°F
Remove it from the oven and let the meat rest about 15 minutes before slicing.