Roasted Pork Loin With Rosemary and Garlic
Barb G.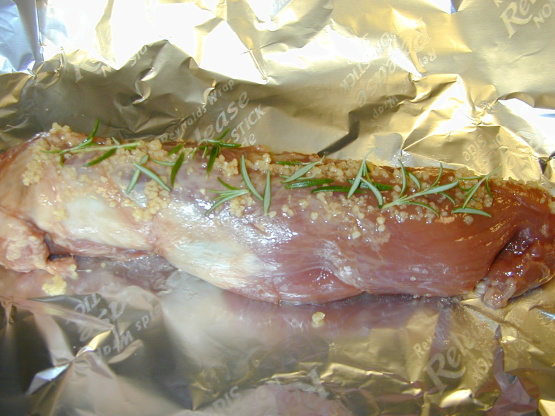 This healthy low carb and low fat pork loin with rosemary and garlic is so easy is this and good.

What a wonderful and tasty dish. I followed the instructions except for adding some thyme with the minced rosemary. I did have to add a little more liquid while it was cooking but ohhhh the smell was heavely! Thank you for submitting the recipe and this is one for my Favorites of 2012 and I will be making this again. Made for Turning Over a New Leaf Diabetic tag game.
Preheat the oven to 350°F.
Rub the pork loin with rosemary, garlic, salt and pepper and place it in a roasting pan. Pour the wine into the bottom of the pan.
Roast the pork for about 1 1/2 hours, basting occasionally with the wine and juices from the bottom of the pan. The pork is cooked when a meat thermometer measures 160°F.
Remove it from the oven and let the meat rest about 15 minutes before slicing.