Roasted Pork Loin With Mustard Garlic and Herbs
BecR2400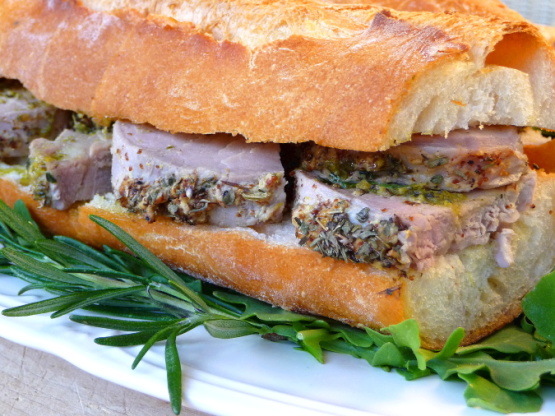 Mouthwatering!!! This makes great sandwiches: combine sliced roasted pork loin with frisee and serve on slices of baguette drizzled with a rosemary-basil pesto sauce.

Delicious! If there were any leftovers I'd love to try the sammy idea, but it was so good we ate it all! I used a 1 lb pork tenderloin & made this super quick recipe #359879. I roasted the pork for 45 minutes with a 10 minute rest before slicing. The flavor was outstanding & the meat was very moist & tender. Thanks for sharing, BecR! :) Made for New Kids on the Block tag game.
Preheat oven to 350F degrees.
Slice small slits all over the pork loin; insert the garlic slivers into the holes.
Spread the Dijon mustard evenly over the entire loin, using your hands or a spatula. Sprinkle loin with the herbes de Provence, the salt and the pepper.
Place on a roasting rack set in a roasting pan and bake for about 1 hour, or until meat thermometer reaches 155 degrees.
Remove from the oven, and let rest for 5-10 minutes before slicing.