Roasted Poblano and Chicken Enchiladas With Sour Cream Sauce
Linajjac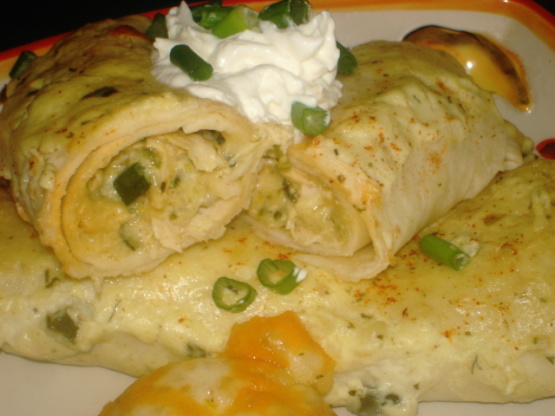 Love this recipe!!! This is a combination of recipes that Dh and I came up with. It's my filling recipe and his sauce recipe. This looks like a lot of work, but really it's not. I usually make the filling up ahead of time and then all I have to do is roll them and make the sauce. Serve with black beans and spanish rice! Enjoy!!

These were great chicken enchiladas. I omitted the chili powder and I used corn tortillas instead of flour. Rather than wrap them individually, I made this casserole style...a bit of sauce on the bottom, then a layer of 6 tortillas, then the chicken mixture, then another layer of 6 tortillas, and then poured the rest of the sauce on top. Canned green chilis worked really well, plus I sauteed the red onion and garlic before mixing with the chicken. I was afraid it would taste too raw (although perhaps it would've been fine!). Thanks for posting.
To roast the peppers: Cut poblano peppers in half, remove all seeds and stem. Roast poblano peppers at 450 degrees until skin begins to blister and turn black in spots, this should take about 10-15 minutes. ***I save the plastic produce sack the peppers came in and when they come out of the oven, I place them in the sack and seal the sack. Let sit 5-10 minutes. The steam from inside will loosen the black skin. Pick what you can of the black parts off, then chop the peppers.
Combine the first 8 ingredients in a bowl. Set aside.
To make the sour cream enchilada sauce: Saute shallot, garlic and peppers in butter over medium heat in a large skillet until veggies soften. Add spices. Cook for another minute.
Combine sour cream and flour well. Add to skillet along with chicken broth. Wisk to combine. (It'll look a little funny for a minute, but don't worry!) Bring mixture to boil. Reduce heat, wisk and simmer until sauce is thick and creamy.
Add 3/4 cup of enchy sauce to the filling mixture. Combine well.
In a greased 13x9 casserole, coat the bottom of dish with 1/2 cup of enchy sauce.
Place 1/4 cup of filling down the center of each tortilla. Roll up and place seam side down in casserole. Repeat with remaining tortillas and filling. Top casserole with remaining enchy sauce.
Bake at 375 degrees for 20 minutes or until warm and bubbly!
Garnish with green onions.