Roasted Pineapple W Balsamic Glaze Honey & Fresh Goat Cheese
alligirl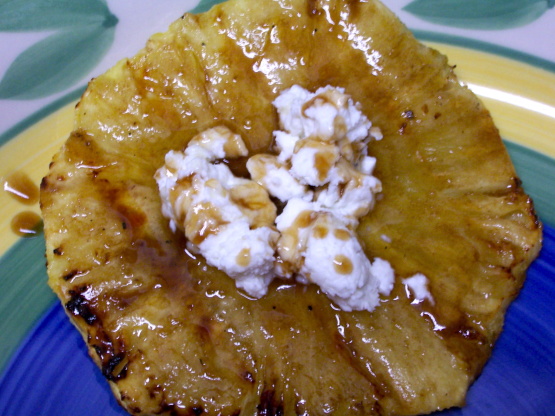 The blending of flavours makes this dish by Toronto chef Massimo Capra very delicious.

Luscious, sweet, sour, creamy, tangy and smooooth. Wonderful way to gild the lily. I think this works well as a salad or as dessert. If goat cheese were unavailable, I'd substitute cream cheese or something with a smooth, fluffy/dense texture. Dh wondered how much trouble it would be to make himself another serving. I told him nothing to it, very simple. Thanks, CountryLady.
4

slices pineapple, cut 1 inch thick (center removed)

2

ounces butter

1

ounce balsamic vinegar

6

ounces fresh goat cheese, softened & lightly whipped

2

ounces honey
Coat the bottom of a baking dish with some of the butter, arrange the pineapple slices and bake at 450F for about 15- 20 minutes.
Divide the rest of the butter into the center of the pineapple slices. Drizzle with the balsamic and bake for a further 5 minutes.
To serve, fill the hole with the fresh goat cheese (or another very creamy cheese) and pour some of the cooking liquid over it, then drizzle with honey.
Allow to cool to at room temperature before serving.