Roasted Pepper and Lentil Salad
PaulaG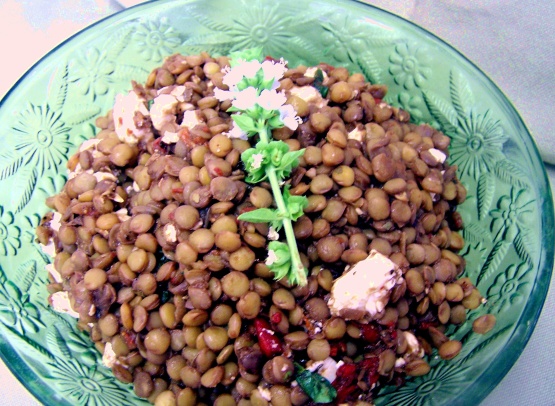 This is based on a Weight Watchers recipe modified to suit my own tastes. A wonderfully simple salad that can play center stage at the meal or accompany grilled meat and vegetables. Travels well and would work well for a potluck or picnic.

This was way too vinegary for our taste - but the rest of the flavors were great. Next time I'll try it with 2.5 TBS of balsamic. Definitely worth tinkering with - this recipe has a lot of potential!
Bring lentils and water to boil in a saucepan over high heat.
Reduce heat, cover and simmer until lentils are tender, about 30 minutes.
While the lentils are cooking, char the red pepper over a high flame on the stove until the skin is blackened and blistered.
Place it in a paper or plastic bag for 10 minutes to get the skin to further loosen.
Remove skin from pepper and dice into 1/2 inch pieces.
Set aside.
Drain lentils and transfer to a large bowl.
Add vinegar, oil, garlic, peppers and basil; toss to combine.
Season to taste with salt and pepper.
Place salad onto serving platter/bowl or individual plates.
Top with feta crumbles.
Serve warm or chilled.