Roasted Pears With Brown Sugar and Vanilla Ice Cream
PaulaG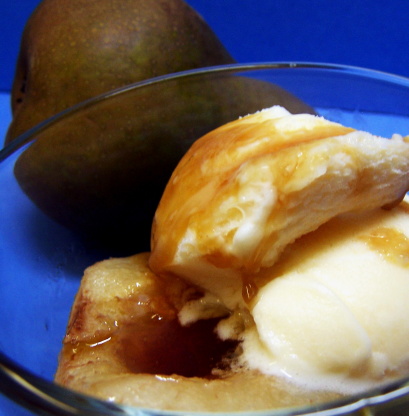 I came back from the village with a boxful of pears from my father-in-law's orchard and looked for ways to use them up fast. I found this Giada de Laurentis recipe which I loved.
Preheat the oven to 400 degrees F.
Arrange the pears cut side up in an 8-inch square glass baking dish. Whisk the apple juice and sugar in a small heavy saucepan over medium-high heat until the sugar dissolves. Whisk in the butter. Pour the sauce over the pears. Bake until the pears are crisp-tender and beginning to brown, basting occasionally with the juices, about 35 minutes.
Spoon the pears onto plates. Top with ice cream. Drizzle with any juices and serve.
The pears can also be served frozen. To do so, cool the pears, then place them in the freezer until frozen solid, about 8 hours.