Roasted Pear-Honey Salad With Baby Greens
Sageca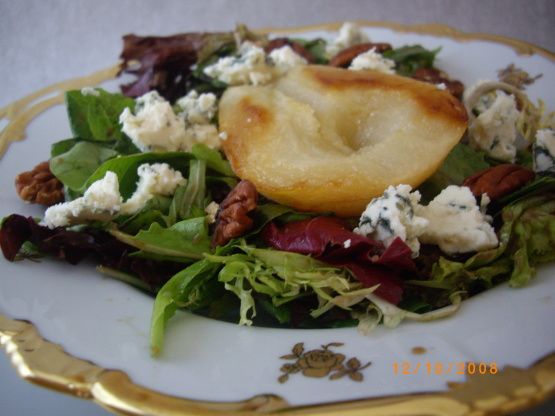 Recipe by Sage
This recipe is from Raising the Salad Bar,by Catherine Walthers, a book I recieved from the Cookbook Swap. This makes an elegant salad and the combination of flavour is just right.
2

pears, peeled, halved and cored

9.85

ml honey

1419.54-1892.72

ml mixed baby greens

113.39

g blue cheese, crumbled

78.07

ml walnuts, toasted and chopped

Balsamic Vinaigrette

29.58

ml balsamic vinegar

4.92

ml finely minced shallot

73.94

ml olive oil
salt and pepper
Preheat oven 375*. Line baking sheet with parchment paper. Brush pears with a little oil and place on baking sheet cut side down and bake 20 minutes.
Pears should be brown at the bottom and easily pierced. Turn over and drizzle the core with 1/2 tsp honey. Bake an additional 5 minutes.
Pears can be made the same day but do not refrigerate.
To make vinaigrette, in small bowl combine vinegar and shallot;whisk in the oil and add salt and pepper.
Place salad green in a medium bowl and toss with vinaigrette. Mix well. Divide in serving plates;
Top each serving with a pear half and top with blue cheese and nuts.