Roasted Peanut Brownie Recipe
hard62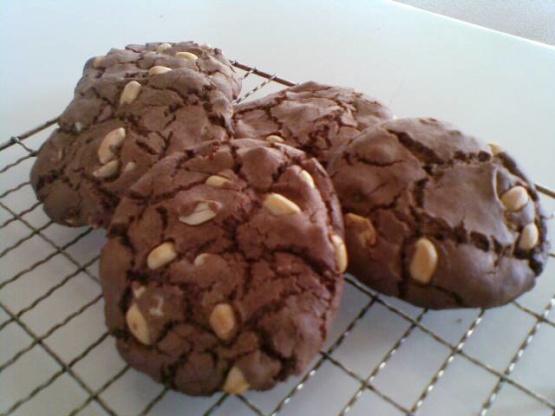 Peanut brownies were one of the all-time favorites. Mum used to cook these on a regular basis to help fill the school lunch box. Because this recipe uses roasted peanuts they are much nicer. After they are roasted you can put them into a paper bag and press down with a rolling pin and break them into halves so you can gently blow away the shells.

Some residents in our mobile home park are having a cookie give-away tomorrow & I'm contributing a handful of different batches of cookies! These cookies will be included, & they are absolutely wonderful, but then I love both chocolate AND peanuts, so . . . The roasted nuts do give the cookies a very special flavor & I do plan on making these again! Thanks for posting the recipe! [Made & reviewed in New Kids on the Block tag]
Beat the butter and sugar to a cream.
Add the beaten egg.
Add the dry ingredients and lastly the peanuts.
Take spoon fulls of the mixture and roll into balls and press down with a fork on a cold greased tray.
Bake at 180 C/350 F for 15 to 20 minutes (if you are using a fan-forced oven then you will need to lower the temperature by up to 10 degrees centigrade and/or adjust the time).
Leave on a rack to cool.