ChefLee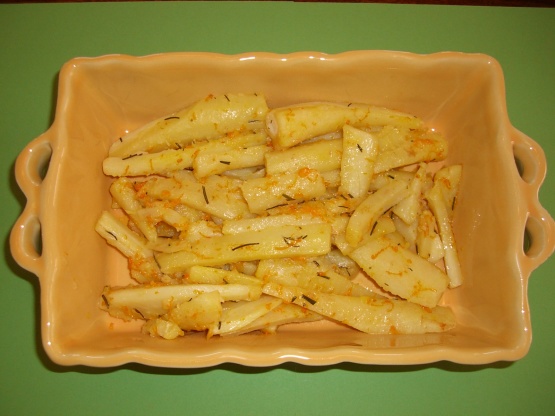 Being a family of vegetable lovers, we like parsnips . I find there are not a lot of recipes using parsnip, but found this one on an A.B.C. programme (Cook and the Chef) and the family loved it.
Note for peeling Orange~ Peel the skin using a vegetable peeler taking none of the pith, then juice the orange and keep the peel.
Preheat oven to 200C .
Peel parsnips (if not young you need to cut out woody stem) cutting end off.
Cut in half lengthwise and blanch for 3 to 4 minutes in boiling salted water.
In a pan melt the butter until frothy and nut brown adding the extra virgin olive oil to inhibit burning.
In a flat baking tray pour in the nut-brown butter and place the blanched parsnips (cut side down) add the chopped rosemary and bake in 200C oven until golden brown.
When parsnips are golden brown (which takes about 10 minutes) take tray out of oven and deglaze the parsnips with orange juice with the peel and back in the oven for about 3 minutes until the juice has evaporated.
Serve immediately.