Roasted Parsnip, Apple and Ginger Soup
Prep 20 mins
Cook 1 hr 20 mins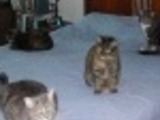 Posted for Zaar World Tour 2005. This is served at Bewley's Cafe in Dublin which is a favorite spot for shoppers and Trinity College Students. This soup remains a favorite. From a cookbook called The New Irish Table. I have not tried this yet. (The orange juice was a recent addition.)
3 large parsnips, peeled and thickly sliced (about 1 1/2 pounds)
2 granny smith apples, peeled, cored and coarsely chopped (about 1 pound)
1 teaspoon fresh ginger, peeled and minced
1 tablespoon olive oil (for coating)
2 tablespoons unsalted butter
1 large leek, white and light green parts only washed carefully and sliced (about 1 pound)
4 stalks celery, finely chopped
1 onion, chopped
1 1⁄2 lbs potatoes, peeled and cut into 1/2 inch pieces
7 1⁄2 cups vegetable broth
1⁄2 cup orange juice
1⁄2 cup half-and-half
salt & freshly ground black pepper, to taste
10 -12 tablespoons creme fraiche, for garnish (optional)
Directions
Preheat oven to 350 Fahrenheit.
In a metal roasting pan, combined parsnips, apples and ginger. Add oil, toss to coat and cover with aluminum foil. Cook for 20 minutes.
Stir, then cook uncovered for an additional 20 minutes or until vegetables are lightly browned and tender.
In a large soup pot, melt the butter over medium heat. Add the leek, celery, onion and potatoes. Cook for 4-5 minutes, or until slightly tender.
Add the parsnip mixture, broth and orange juice. Reduce heat to low, cover, and cook for 30 minutes, or until all vegetables are soft.
Transfer to a blender or food processer in batches and process until smooth. (At this point you can refrigerate for up to 24 hours).
Return the puree to the soup pot. Stir in half-and-half and season with salt and pepper. Cook over medium heat to heat through. Ladle soup into bowls and garnish with a tablespoon of creme fraiche.
Reviews
Most Helpful
We found this soup to be a little bland. I was hoping that the roasted parsnips, apples, and ginger would come out more in this dish. I cut the quantity of vegetable broth down to 6 cups, but it was still very liquidy. I think that a bit more ginger, less veggie broth, and less potatoes would really bring out the flavors more. I had this for dinner the next night chilled, and it did improve from chilling overnight, thickening up a little. The flavors were enhanced as well. EDIT: I decided to add another star. It was so much better as leftovers.

I spent a semester at Trinity when I was an undergrad, and I never once ate at the cafe inside Bewley's. Now I wish I had!! This was a great hearty, comforting soup, perfect for the weather this week. I was surprised at how much apple flavour really comes through given the ratio of all the ingredients. It's quite tasty! Thanks!!
I have made this twice this week, first with my primary school cookery club and because it was such a success I made a batch for home. Followed the instructions exactly and it turned out perfected. Froze a portion to see how it would turn out and it was great. Thanks for sharing