Roasted Parmesan Potatoes
teresas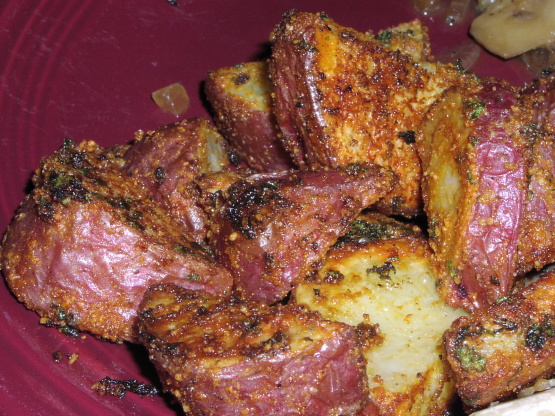 Slightly tangy potato squares that have a zest of cheese and is a great side-dish.

Yum, Yum, Yum, all the way. SOOO good. I baked mine at 350 for about 40 minutes, to work with another oven recipe I was making. They got all golden brown and delicious, and cooked all the way thru. I've had trouble in the past with other potato recipes. The potatoes would brown, but not cook thru. NOT an issue with this one! DH and kids loved it too! Keeper, for sure.
Preheat oven to 450°F Line a baking sheet with aluminum foil and spray with cooking spray. Slice potatoes in half, then cut into 1/2 inch cubes.
Place potatoes in a medium bowl and toss with oil. Combine parmesan cheese, parsley, paprika, garlic powder, salt, and cayenne pepper in a small bowl.
Add the parmesan mixture to potatoes in a bowl: toss to coat potatoes.
Arrange potatoes on prepared baking sheet. Bake for 25 minutes.