Roasted Nectarines With Mulled Wine Sauce
JustJanS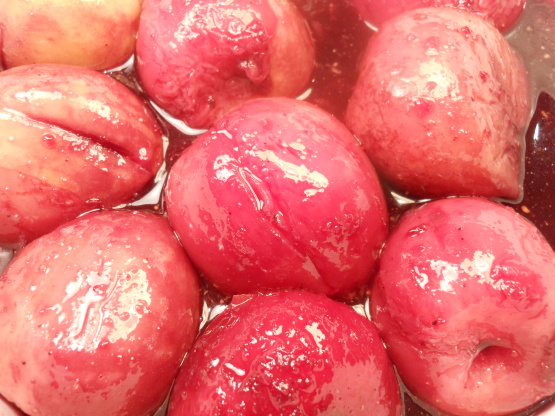 Such a delcious way to use fresh nectarines. Served with custard, ice-cream or youghurt. I found this recipe in the paper and this is such a lovely dessert for summer, it would make for a lovely light dessert during the Christmas period, the spices just compliment the nectarines so well. I am also going to try this with plums. I removed the skins after cooking, the skins come off so well, and looks better for presentation.

Top Review by ImPat
I scaled back for 6 nectarines and my dish was a little on the big side but otherwise made as per recipe using a shiraz but when it came to the time I didn't feel like dessert so served up the the DM and DS - 2 nectarines each and a good dollop of french vanilla yoghurt and the juices (they tasted delectable - yes I had a taste) and they thoroughly enjoyed, thank you Tisme, made for Make My Recipe tag game.
Preheat the oven to 200C (fanforced 180C).
Put the nectarines in ovenproof casserole dish so they fit snugly.
Scatter with the sugar and dot with the butter. Add the wine, spices and orange zest.
Cover dish with foil and roast nectarines for 30 minutes, until the fruit is soft.
Cool nectarines in the syrup, (I refrigerated and served cold).
These can be served on their own or with either yoghurt, ice-cream or custard.