Roasted Nectarines With Buttermilk Custard
hepcat1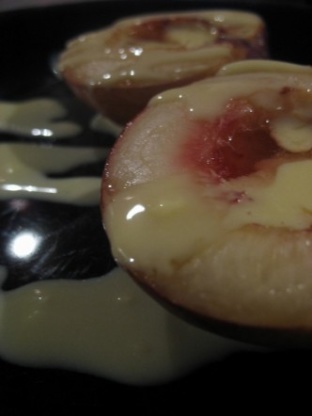 This is a delicious fruit dessert that comes from Cooking Light. I love, love, love roasting (and grilling) fruit! This is a great make-ahead since all you have to do is pop the halved nectarines in the oven and served them with the chilled sauce. Although I haven't tried it, the magazine states that peaches or plums can also be roasted with good success.
To prepare sauce, combine salt and egg yolks in a medium bowl. Gradually add 1/3 cup sugar, beating 2 minutes with a mixer at medium-high speed.
Heat 1% low-fat milk over medium heat in a small, heavy saucepan to 180° or until tiny bubbles form around edge (do not boil). Gradually add hot milk to sugar mixture, stirring constantly. Return milk mixture to pan; cook over medium-low heat 5 minutes or until slightly thick and mixture coats the back of a spoon, stirring constantly (do not boil). Remove from heat. Stir in buttermilk and vanilla. Place pan in a large ice-filled bowl until mixture cools completely, stirring occasionally. Spoon mixture into a bowl. Cover and chill.
Preheat oven to 400°.
To prepare nectarines, place nectarines, cut sides up, in a 9 x 13-inch baking dish coated with cooking spray. Sprinkle nectarines evenly with 1 tablespoon sugar. Bake at 400° for 25 minutes or until nectarines are soft and lightly browned. Serve with chilled sauce.