Roasted Lamb Shanks With Red Wine,tomato & Garlic Risotto
ImPat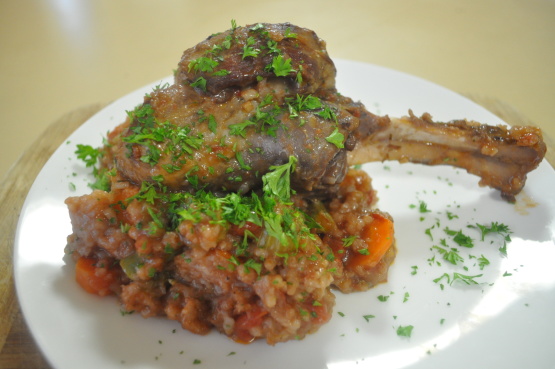 This is a great one dish meal--you basically throw it all in the oven and it cooks itself. Don't be afraid of the amount of liquid used as a lot evaporates & a lot is soaked up by the rice. You can also add some whole fresh tomatoes to roast alongside the lamb if you like.

This was wonderful. I only tasted it, because i was on a cooking storm today and needed to use the leftover stewed tomatoes from another recipe before they went bad so took the opportunity. One thing I did do is add "gremolata" the mix of lemonzest, chopped garlic and parsley at the end of the cooking in the sauce. It was rather like ossobucco then with the rice cooked in the pot :) I will be making this again after tomorrows feast of it..that is if i can hold off making a pig of myself at midnight snack!!
Roast lamb shanks at 200 C in a roasting pan for approx 30 minutes.
Remove shanks from pan and drain fat from pan then add rice. Sprinkle carrots & celery over rice.
Mix chili, garlic, stock, tomatoes, wine & rosemary together and pour over rice. (This mixture could be used as a marinade for the lamb prior to cooking).
Place shanks on top of rice with tomatoes. Cover & cook at 150 C for approx 2 hours.
Check after an hour or so and add more liquid if necessary.
Serve garnished with chopped parsley.