Roasted Kielbasa & Potatoes
PaulaG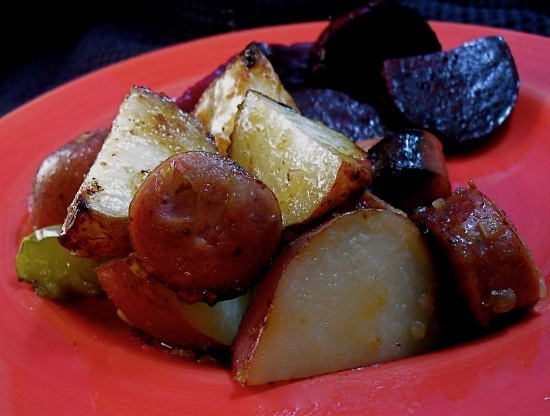 Another recipe from Mom. These are good and easy to throw together.

Top Review by A.S.K.
i just made this today and i thought it was great. i used unsalted butter instead fo oi, and i added a sliced onion and half of a sliced green pepper. i think next time i'll add more potatoes, i used red potatoes and they were on the small side. thanks for such an easy dish. i had everything chopped and put together by the time the oven was preheated. UPDATE i have made this a few more times, and made a couple of changes to make it a bit healthier. first i use the light kielbasa, and instead of oil or butter i use 1/3 cup of water. i actually like it better this way. it is a lot less greasy. btw left overs are great with eggs in a breakfast casserole with a little cheese on top!
5 -7

potatoes, washed and cut up into bite-size chunks (skin on)

1

package kielbasa, cut into bite size pieces

1

package dry onion soup mix
1⁄4 cup canola oil
Preheat oven to 425 degrees.
Mix all ingredients in a large bowl.
Pour into a 9x13" baking pan.
Cook in oven, covered with foil for approximately 1 hour.
You can stir after 1/2 hour of cooking.