Roasted Juicy Acorn Squash
Pixie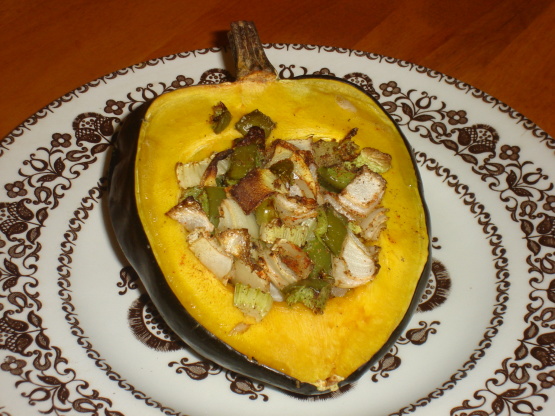 No Salt or butter required. Healthy and Delicious! Once roasted, squash is terrific for casseroles, soups, and a great side dish by itself. After squash is cooked, remove from skin, puree and save for the next day's casserole.

Top Review by Pixie
Great combo of vegetables and smells wonderful while it's cooking. The squash and veggies were perfect at the end of 50 minutes. There was way too much pepper in the onion mixture for my tastes, otherwise I would have ranked it as a 5 star. Next time I'll just estimate how much pepper looks right to me and try it that way. Thanks for posting.
Chop onions, celery, bell pepper, and mix together with pepper and Mrs. Dash Seasoning Bland in a large bowl.
Slice each squash in half. Place face up on a cutting board and scoop out the seeds with the edge of a spoon (Note: you can discard seeds, wash, then roast at 400 for about 20 minutes for a healthy snack later).
Spray a roasting pan and line with tin foil to protect pan. Place squash, seeds removed, face-up on a rack in a baking pan. Spritz with a bit of water.
Fill the pockets formed from removal of seeds with chopped celery, bell pepper, and onions. Sprinkle with a bit more black pepper and Mrs. Dash Original Seasoning Blend, then spritz lightly with water again.
Bake at 350 for about 40 to 50 minutes until a fork easily pierces the squash interior.
Remove squash from skin before serving. You can make this recipe a day ahead, remove squash from skin, and store in fridge until ready to use.