Roasted Jalapeno & Cheese Stuffed Bacon Wrapped Chicken
alligirl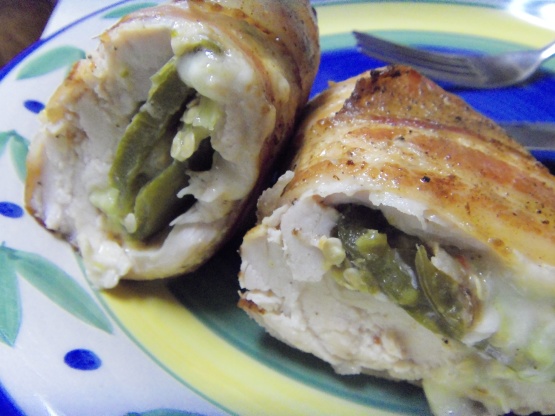 Great recipe! I roasted the jalapenos on my electric stove, just set them on the coil and turned them until they were charred. Wonderful way to use the jalapenos out of my garden! Being from Wisconsin what's better than chicken, bacon and CHEESE!
Flatten chicken breasts to approx 1/4" thickness. Season both sides of chicken with garlic salt and pepper.
Divide and place sliced smoked jalapenos on each breast with cheese. Fold over the chicken and secure with a tooth pick or two. Then wrap each chicken breast with bacon.
Brown rolls over medium heat until bacon just begins to crisp. Place on a baking sheet and bake in a 350 degree oven for 20 minutes.
Grilling Method: Skip step #3. Grill on all sides until chicken and bacon are cooked through, being careful because the cheese will melt and seep out. Watch for flare ups from bacon fat.