Roasted Honey-Glazed Spareribs
Nif_H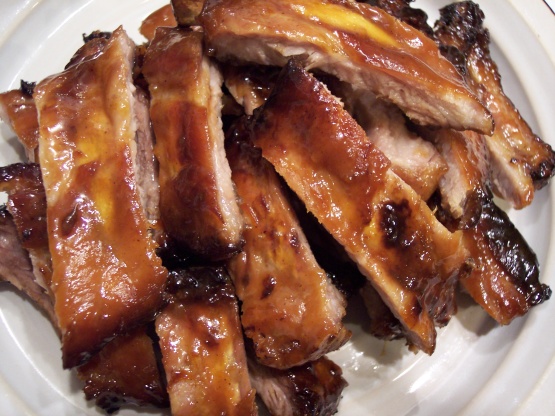 Mmmm! From Gourmet magazine. Be sure to line your roasting pan with foil to help in the clean up. These need to marinate for 24 hours, so plan ahead.

These ribs are delicious. I substituted Texas Pete for the Tobasco and garlic powder for the fresh garlic, since those are what I had on hand. I am taking a star off because the nutrition information is not even remotely correct. Or it may be correct if it is just for the marinade. If that is the case, then it should be spelled out in the recipe.
Make marinade:.
With flat side of a large knife smash garlic.
In a small saucepan heat brown sugar, honey, and vinegar over moderate heat, stirring, until sugar is dissolved.
Remove pan from heat and stir in garlic and remaining marinade ingredients until combined well.
Cool marinade to room temperature.
Fold up spareribs and fit into two 1-gallon heavy-duty sealable plastic bags.
Divide marinade between bags and seal bags, pressing out excess air.
Marinate ribs in bags in a large roasting pan, chilled, turning them once, for 1 day.
Preheat oven to 350°F.
Open bags and, holding ribs in bags, pour marinade into a saucepan.
Discard garlic.
Simmer marinade until reduced to about 1 cup.
Pour 1 cup marinade into a bowl and reserve as sauce for serving with ribs (remainder will be used for basting ribs).
Arrange ribs, overlapping slightly, in 2 large roasting pans and roast in upper and lower thirds of oven 30 minutes.
With tongs turn ribs over so they will brown evenly.
Roast ribs 30 minutes more and with tongs turn them over.
Switch position of pans in oven and baste ribs with some of remaining marinade in saucepan.
Roast ribs 30 minutes and with tongs turn them over.
Brush ribs with remaining marinade in saucepan and roast 30 minutes more, or until meat is very tender.
Ribs may be made 30 minutes ahead and kept, tightly covered with foil, at room temperature.
Transfer ribs to a cutting board and cut apart between bones.
Serve ribs with reserved sauce.