Roasted Halibut With Fresh Herb Sauce
Thorsten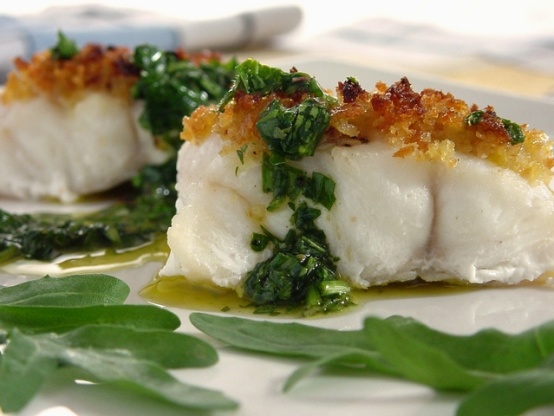 Halibut with herb sauce dares to bring fish that's not smoked to the brunch table. Created by husband-and-wife team, Gayle Pirie and John Clark, of San Francisco's Zuni Cafe, when they resolved to rescue what they saw as an unloved meal from its second-class status. They accomplished this feat in part by moving beyond eggs. While this dish doesn't shout Christmas any more than it does brunch, it's ideal for the holidays: easy to prepare, perfect to serve to large groups and crafted to make the most of comforting seasonal ingredients. Match this simple, mild fish with a light, fresh and fruity white like the fragrant 1998 Antinori Galestro or the 1998 Anselmi Soave San Vincenzo. MAKE AHEAD The sauce can be refrigerated for several hours.

Excellent, I made this as a last minute dish using halibut and It came out moist and perfectly cooked. I didn't have any arugula or marjoram so I just used parsley and oregano and subbed in a little fresh mint and some lemon zest. It was delicious, I can only imagine how great it will be next time when I have the proper herbs on hand . Thanks for a great recipe worthy of company and the price I paid for my halibut
Preheat the oven to 400°. In a medium bowl, toss the bread crumbs with 1 tablespoon of the olive oil, 1 teaspoon of the minced garlic and the wine. Spread the crumbs on a pie plate and toast for 8 minutes, or until lightly browned.
Meanwhile, in a bowl, combine the 1/2 cup of oil with the parsley, arugula, marjoram, oregano, vinegar and the remaining 1 teaspoon of garlic. Season the herb sauce with salt and pepper.
Lightly oil a large baking dish. Arrange the halibut fillets in the dish, season with salt and pepper and roast for 8 minutes. Sprinkle the fish with the toasted bread crumbs and bake for about 8 minutes longer, or until the fish is cooked through. Transfer the fish to plates, drizzle with the herb sauce and serve.