Roasted Green Beans With Garlic and Pine Nuts
Bergy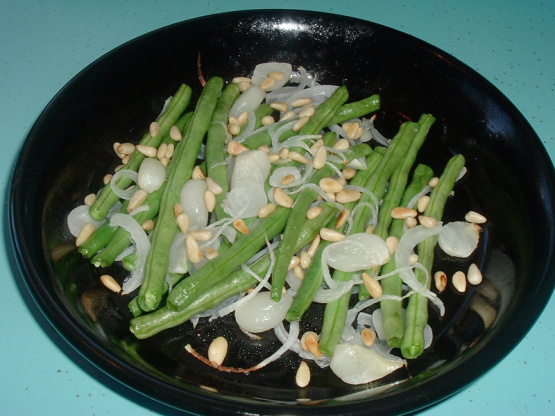 I really LOVE green beans, and this recipe is yet another tasty way to serve them. I belive the recipe called for whole garlic cloves, but I like to smash them with the back of my knife to 1) get the peels off and 2) release some of that wonderful garlic flavor. I enjoy these beans right out the oven as is, but if you're like my husband, go ahead and add the couple tbsp of the vinegar of your choice before serving. These taste great right from the oven, or at room temp.

Top Review by Bergy
Excellent green bean recipe enjoyed by all. I used this season's fresh garlic - it is so mellow and light in the flavor. Did not use balsamic vinegar - I love it but other diner not fond of any thing on the veggies - she loved this recipe thanks Kozmic Blues for another winner
Preheat oven to 400 degrees.
Line baking sheet with foil.
Place the beans, onions and garlic onto the sheet.
Drizzle with the olive oil and toss together with your hands to coat evenly.
Season GENEROUSLY with salt and pepper.
I like to use some kosher salt, as well as a few shakes of seasoned salt too.
Bake in oven for 25 minutes.
Give the beans a quick toss halfway through cook time.
At the end of 25 minutes, tsate a bean to see if it's tender to your liking.
If not, put sheet back in for another 5-10 minutes.
Remove from oven and place in serving bowl.
Drizzle with vinegar, if using, and check seasonings.
Top beans with the pine nuts, and serve.