Ambervim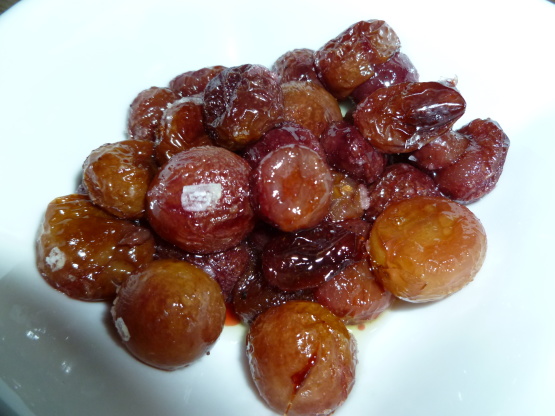 This is wonderful served with cheese and crackers. It is also a great addition to a salad. You will think of other wonderful ways to serve these once you have tried them!

Super! I made this a few days ago with the thyme and loved it! I was looking for cheap seedless grapes to make it again. I knew that grapes could be roasted and what great flavor they had. I served with roasted chicken to sweeten things up a bit. Thanks for posting, Ambervim, I absolutely love this idea!!
Preheat oven to 425 degrees.
On a large, rimmed baking sheet, combine all ingredients, tossing with a spatula to combine. If using herbs, be sure to coat the branches with olive oil to prevent burning.
Transfer baking sheet to oven and roast, shaking pan intermittently, until grapes have burst and grape juice begins to thicken, about 30 minutes.
Let cool slightly and transfer to serving vessel.