Roasted Garlic-Rosemary Cornish Game Hens
NELady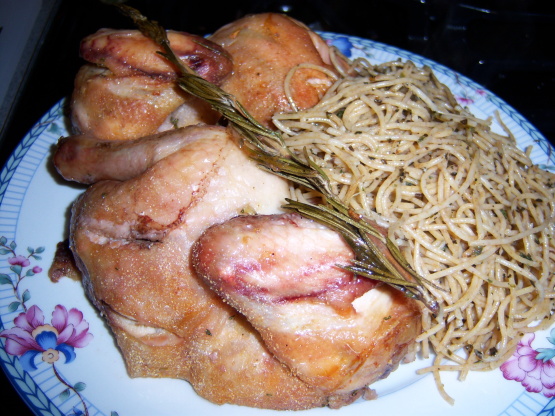 Recipe Source: Health I haven't made this yet but it sounds great.

I love the technique of loosening the skin and putting herbs underneath it. I used some lemon thyme in addition to the garlic and rosemary, and also some lovely chive blossoms - no point in letting them go to waste with a hard frost promised for tonight. Added chives to the rosemary in the cavity. Herbs flavored the chicken and the pan juices. Lovely.
Preheat oven to 350°.
Mix garlic and chopped rosemary together in a small bowl.
Rinse each hen under cold water; pat dry. Starting at neck cavity, loosen skin from breast by gently inserting fingers between skin and meat. Place about 2 teaspoons of garlic mixture under skin and spread evenly over breast meat. Place 1 rosemary sprig in body cavity. Sprinkle hens with salt and pepper.
Tie ends of legs together with cord. Lift wing tips out and tuck under hen. Place hens on a broiler pan coated with cooking spray; bake for 1 hour or until juices run clear. Remove skin and cord before serving; split hens in half lengthwise.