gailanng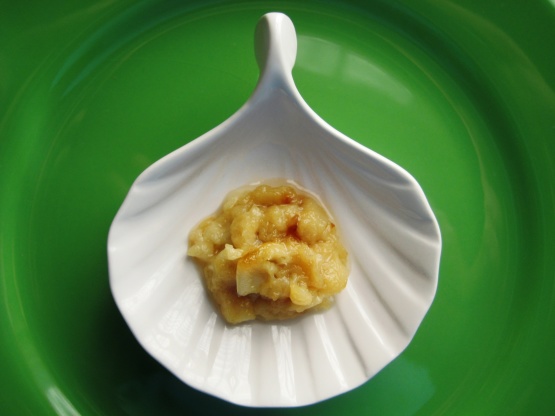 This is so easy and you can add it to just about anything, especially homemade salad dressing. It only states that it Serves 4-6 wish I knew it in cups. If anyone makes this and would be kind enough to let me know how many cups/or ounces, I would really appreciate it. Thank you :) To have plenty for later use, double or triple the recipe. Pol Martin Cookbook.

My photo is of a half batch. Whatever you do double or even quadruple to have it on hand to mix with some butter for garlic bread or mashed potatoes. It holds a promise to keep away consumption, scarlet fever or the plague. Made for P-A-R-T-Y Holiday Tag.
preheat oven to 375*F.
wrap garlic cloves in aluminum foil package and cook for 1 hour in oven.
remove cloves from foil and peel.
puree garlic in food processor, add olive oil and blend until incorporated.
store garlic puree in glass jar with tight-fitting lid.
refrigerate.
use in preparation of sauces or with meats.