Roasted Garlic Potato Bites
Bergy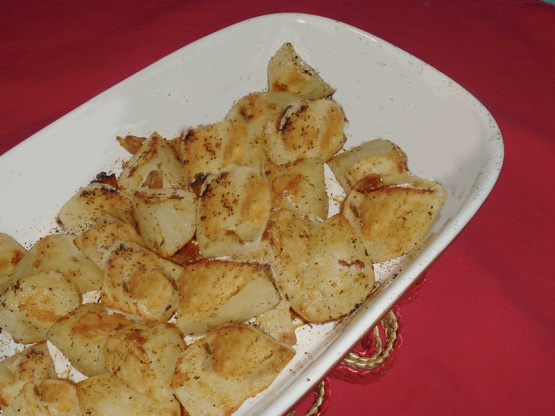 I love potatoes and I love roasted garlic. Combining the two are delicious!!!

Top Review by Bergy
Excellent recipe! I did the potatoes on a baking stone and they came out crisp & golden on the outside and perfect inside - . I left the garlic on the potatoes while roasting them I love the flavor of the garlic when it is completely roasted. It's crunchy and yes, perhaps slightly bitter, but I find it has a distinct flavor that I love This will be a frequent visitor to our house Thanks HappyVal — Added Comments - this time I roasted them in a casserole dish and served the roasted garlic on the side - that way everyone could take as much or littleof the garlic as they wanted -I had loads of it! Thanks again
Roast the garlic by placing cloves and oil in a small oven dish (or make a packet with heavy duty aluminum foil).
Bake@ 375 for 35-45 minutes.
While garlic is roasting, clean and cut potatoes into bite size pieces (you may leave the peelings on or peel them off, whichever you perfer).
Rinse well and dry potatoes completely.
When garlic is done roasting combine the oil (take out the garlic cloves>>garlic will burn and become bitter if cooked too long<<, reserve the garlic for later), and the potatoes and all other ingredients in a bowl.
Coat potatoes well and evenly.
Spread out potatoes on a large cookie sheet.
Bake@ 375 for an hour.
Garlic cloves can be added after baking is done, or keep cloves in an airtight container in the fridge for a later use (like garlic mashed potatoes, Delicious!).
Enjoy.