Roasted Garlic Mashed Sweet Potatoes
lazyme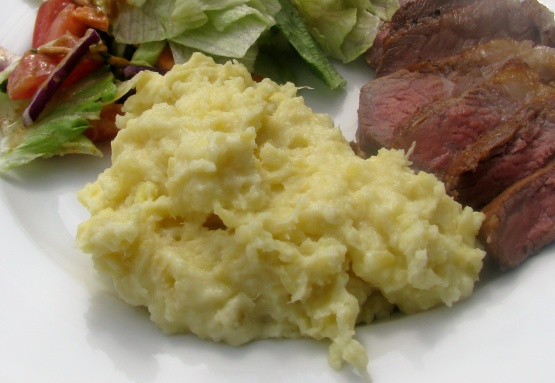 Recipe from Island Flave.com for US Virgin Islands.

Couldnt find yellow sweet potatoes but wanted to try this recipe so I used yams and loved them. Used half and half instead of whipping cream and whipped everything together with my electric hand mixer. Put the potatoes back in a pot to heat thru before serving. If I ever spot yellow sweet potatoes will have to try them too. Made and reviewed for the Culinary Quest 2016 - Bahamas.
Cut the top off unpeeled garlic head. Drizzle with olive oil, place in baking pan & bake & 250 degrees for 30 - 40 minutes.
Bake the potatoes at 400 degrees for 1 hour or until tender.
Cut potatoes in half, scoop into saucepan and mash.
Squeeze roasted garlic into the mashed potatoes.
Add butter, mash while adding cream a little at a time. Add salt & pepper to taste.