Roasted Garlic Mashed Potatoes Lower Healthier Fat
Rita1652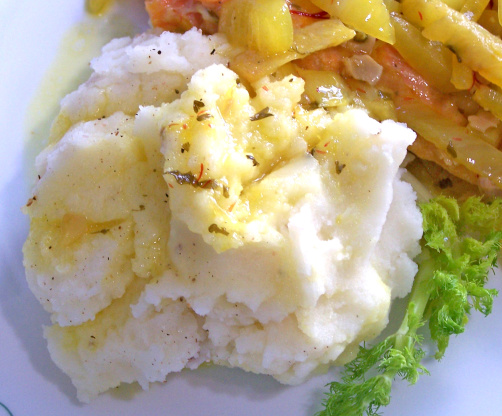 Comfort food can be healthy!!! this is Low in trans fats. Nutritional facts for the mayo dressing is here http://www.smartbalance.com/MayonnaiseFamily.aspx. Do make the whole recipe even if you don't have 20 to serve. You can top a Shepherd's Pie, add it to soup for a gluten free thickener, croquettes, add to a bread dough recipe, stuff them in a meatloaf, pan fry them for breakfast....... Some ideas here book #246177

Amazing flavor. I think that it's very possible that I may never make mashed spuds any other way from now on. They are creamy and so full of flavor that not a drop of butter is needed or even wanted. These would be great with any meal from a simple dinner for the family to the Thanksgiving and Christmas extravaganza's. Thank you so much Rita.
Add potatoes to water and bring to a boil add salt to taste and boil for about 20 minutes till tender.
Drain potatoes into a strainer.
Return pot to low heat, adding milk, and oil just to warm.
Meanwhile rice the roasted garlic first then the potatoes into a large bowl.
Top with fresh cracked black pepper, fresh cracked salt, milk, mayo and oil. Stir to blend all ingredients together till creamy and tasty! Go ahead taste it! Go ahead have an other taste. If wanted add additional salt and pepper.