Roasted Garlic Linguini a La Cafe Tosca
Annacia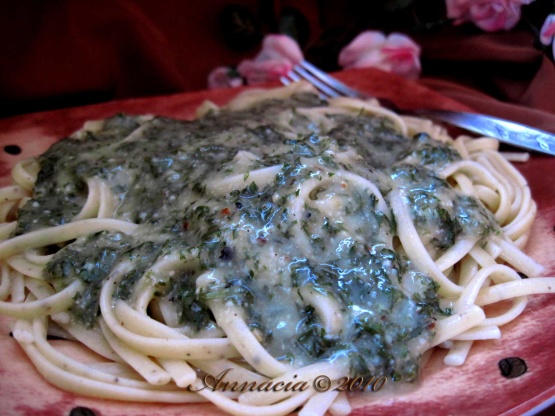 From Cafe Tosca, Vashon Island, Washington.

This was an absolute delight. I used lemon pepper linguine and was liberal with the lemon juice because I love lemon. I think I *might* have over done it with the parsley too but it sure was a good dinner. There was no cheese on mine just to keep from adding more calories, lol. I enjoyed every fork wrapped mouthful. Lazy, your recipes are treasures and I don't think that I have ever tried one that I didn't love.
Cook, drain, rinse and chill pasta.
Oil when cool.
Refrigerate and cover what you don't use.
You can bag and use for several more days.
Oil garlic.
Cover and oven roast at 425 until tender, about 30 minutes. Or try 10 minutes in the microwave. Cool and reserve.
Heat medium fry pan.
Brown garlic.
Add parsley, salt and pepper.
Saute 30 seconds.
Add wine and lemon juice.
Bring back to heat.
Dip al dente pasta in hot water for 1 minute.
Drain and put in pasta bowl.
Add butter to garlic pan.
Add a touch more wine if it has cooked away.
Swirl butter around quickly.
Add to cooked pasta.
Toss and top with cheese.
Best served with toasted Italian bread.