Bergy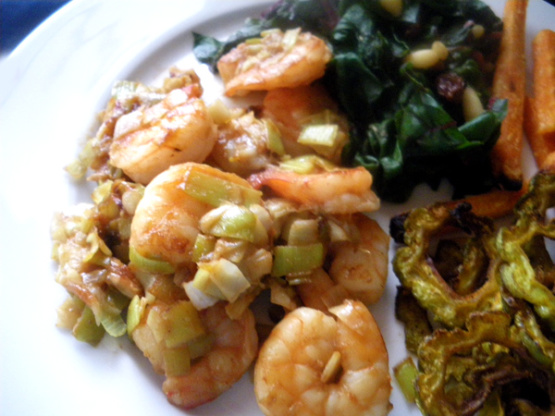 If I'm stuffed from having just had dinner and I could STILL eat a serving of this, there must be something....right! Serving size is dependent upon whether you use this as an appetizer or main dish.

Top Review by Bergy
5 star plus! Wonderful recipe - the roasted garlic is so mellow with the prawns. I did make a mistake when I quickly read the ingredients I thought it was 2 leeks not 2 tbs and I was making half the recipe so I merrily chopped up a whole leek - never mind it was delicious! I used Marsal wine. Squeezed on some lemon juice and really enjoyed our Sunday dinner Thanks Sandi.
When cool, squeeze roasted garlic paste from bulbs into large bowl.
Add shrimp, 2 tablespoons olive oil, salt, pepper, leeks and paprika, then gently mix.
Heat 1 tablespoon olive oil in pan over medium-high.
Add shrimp mixture to the pan and stir fry, working quickly. When the shrimp start to turn pink, deglaze with vermouth, white wine or sherry.
Rapidly sauté this mixture at high heat until wine reduces and alcohol cooks away, keeping in mind not to overcook (i.e. toughen) the shrimp. The garlic paste will cause the sauce to take on a creamy consistency.
Before serving, add a sprinkle of either lemon or orange juice allowing the spray from the citrus oil to also fall into the serving dish.
Sprinkle with finely chopped parsley.
Serve as an appetizer or as a main dish over rice -- or in a plastic bowl at 2:15 am over the sink or however and whenever you like!